Imagination Takes Over : Caitlin Hurd
Enjoy an insightful conversation with one of our talented team members.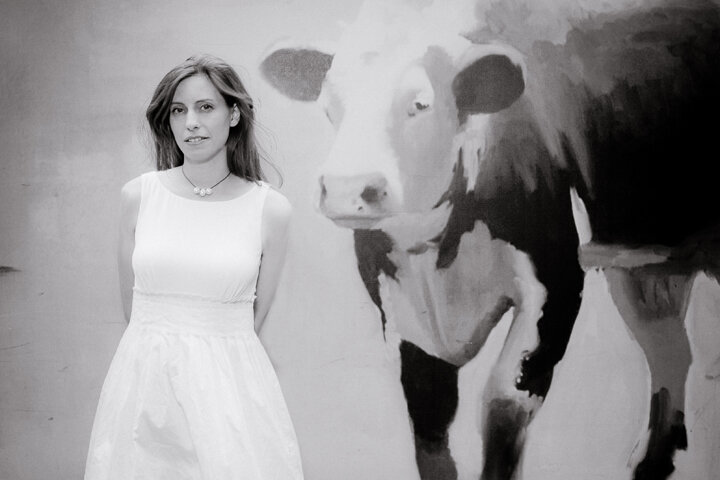 What is the first piece of art that you remember making? What inspired you? I remember being in preschool and drawing people with a head and the long two legs coming directly from where the neck could be. Looking at my creation, I thought that it didn't look quite right and I wanted to fix it. So, I asked myself what comes between my head and my legs? I looked down at my own body and saw my belly. It was my first "aha" moment I can remember. What I love about making art is the discovery.
What themes most call to you in your creativity? I have recently discovered that my overall arching theme is about the loss of control. But usually when I start a painting or a drawing I ask myself "what am I afraid of" and I paint that. My work is about moments when time is suspended and the mind travels to other places. In the painting series "Somewhere Else," in one of the paintings we see two identical men dressed in white shirts and gray-brown dress pants. They appear to be daydreaming while lying on a stretch of bright green grass and looking up at a blue sky. When we daydream, we are transported. We have an experience, which is often beyond words. We live whole other lives (as represented by the doubled figure). And yet, just as we sometimes seek to escape our present time and space, we inevitably return to it and, for all its complexity, the world continues to offer us hope for growth and renewal.
My paintings are not only about the transformation of a physical space, but are also about the transformation of people. Further, my images investigate the idea that transformation and change are inherently bound together with rest and waiting. While some aspects of people and places transform, other aspects lay at rest. While we improve one piece of our city and ourselves, other pieces must remain still. Change involves a balance of activity and passivity.
Minds wander and imagination takes over. The active imagination is at full speed only when the physical body is still. In this way, the figure represents the waiting we must endure while reconstruction takes place, but also the anticipation and wonder of what the future holds. Encouraging the viewers to mentally put in place the missing or disjointed pieces and imagine for themselves what the future will be.
Is there a project that you have been wanting to embark on or something you have wanted to create, but haven't acquired the resources yet? If so, can you tell us more about it. In 2017, I founded a residency program, called Artists Off Grid, where I take artists off the grid and into the wild, allowing residents and myself to experience nature as we think, explore and create artwork without electricity or running water. This project creates community and a new awareness of essentials. The land I was using for this project, that was generously lent to me, was sold recently. I am looking for a place to host my Artist Off Grid program and I want to find artists who creatively and sustainably use the materials from the land to create their work.
What brings you the most joy in life? Making a really good painting and hanging with my kid.
Do you recall a time when you tried something completely new in your art? Was it scary, but exhilarating...can you tell us more? I can remember a time after graduate school and not knowing what to paint for a really long time, but still going to my studio every day and just painting from life, self-portraits and still lifes. I knew what I was painting was not special, but if I kept showing up it would come. At the time I did not think this was scary, but thinking back on it I am impressed with myself for persisting in what I wanted to happen and not knowing exactly how to get there. Mysterious works conveying the dark beauty that we all notice from time to time. Focusing on the line dividing what is experienced and what cannot be expressed in words.
What is your daily motto? One moment at a time.
What are you most excited about for the future (and the present)? I'm excited about the opening of the Museum of Make Believe.
Do you have a favorite ghost story or fairy tale? Ghost stories were always too scary for me as a kid, but I always like the fairy tale of "The Emperor's New Clothes." I often feel like I am living in that tale.